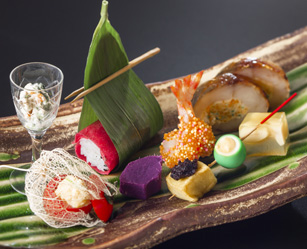 I was born and raised in Kyoto's Tamba, and spent a few decades aiming to be a chef of Kyoto cuisine. Cherishing the traditional Kyoto handwork, I have been devoted to expressing the colorful seasons of Kyoto through cuisine. I not only carefully make the aromatic ichiban-dashi stock with freshly grated bonito flakes, but also choose the best tableware to serve the food. I use local vegetables, tofu skin, and other ingredients characteristic of Kyoto, and I put passion into my cuisine, in hopes that our guests may spend a memorable moment enjoying our food. Head Chef Yamada

18 seats
The menu changes every month.
The menu is subject to change depending on availability.
Please advise us at the time of making your reservation if you are allergic to any ingredient, or if there is any food you are unable to eat. We may not be able to satisfy your request depending on the details.