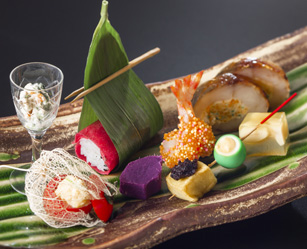 Using an abundance of the best ingredients of each season, such as tofu, yuba, and nama-fu, we lovingly prepare Kyoto specialty kaiseki cuisine that is both palatable and gentle on the body. We carefully select the tableware and decorations to provide guests with a sense of the beautiful seasons of Kyoto transitioning. Each and every dish is prepared with devotion to creating a meal that satisfies both the eyes and palate.


18 seats
The menu changes every month.
The menu is subject to change depending on availability.
Please advise us at the time of making your reservation if you are allergic to any ingredient, or if there is any food you are unable to eat. We may not be able to satisfy your request depending on the details.