>

Muromachi Yutone's Passion

Thank you for visiting Kyokoyado Muromachi Yutone's website.
Although we are a small ryokan with only seven rooms, we work to apply detailed touches, aiming to be an inn where guests can spend a relaxing time.
Yutone is very convenient for strolling around the historic places of Kyoto with Higashi Honganji Temple, Nishi Honganji Temple, Mibu-dera Temple, Kyoto Aquarium, and Umekoji Park in the locality.
Please come and experience classic Kyoto. We look forward to having you with us.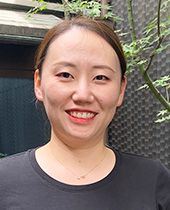 We take great care in making the dashi stock, which is essential for Kyoto cuisine, and procure unique ingredients of Kyoto, such as Kyoto vegetables and tofu skin, in order to deliver the seasons to your palate.
One of the allures of our ryokan is that you can enjoy a full-scale kyo-kaiseki meal within the building, and then go straight to bed in your room without going out at all.
Leisurely savor our Kyoto cuisine with some drinks.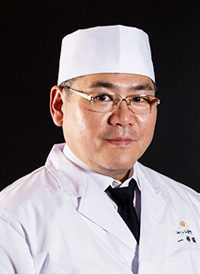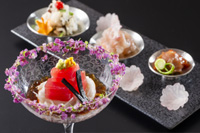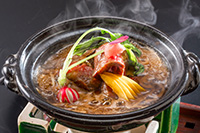 We have employed double-glazed windows with soundproof benefits to prevent condensation.
We have employed eco-friendly peltier-type refrigerators to eliminate noise.
We have made wireless LAN available in the rooms.

All rooms are equipped with cypress baths.
Cypress has a good aroma, bactericidal effects, and helps to relieve fatigue.
We hope you enjoy a relaxing bath.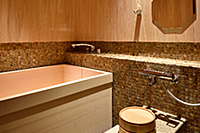 We have had lacquer vanity units specially made. I have heard that "Japan" is a byword around the world for lacquered items, as "China" is for ceramics. We hope that guests from other countries will feel the Japaneseness.
We have installed the latest TOTO Washlet toilets. The toilets have many great functions. Because you have to stretch your arms out if you wash your hands in the running water above the toilet tank, we have installed a separate sink in the front.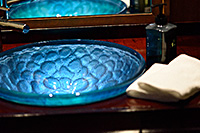 We have selected L'Occitane's Verbena series for the shampoo, conditioner, shower gel (body soap), and body lotion. We have cleanser, face wash, lotion, and milky lotion for the ladies, and face wash, milky lotion, and hair products for the gentlemen. (These are not from L'Occitane.)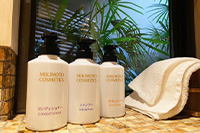 * Our beds are Simmons pocket coil beds. Specific parts of the mattress compress, so a comfortable, relaxing sleep can be promised.
We have used fully combed yarn for our sheets, duvet covers, and pillow cases. Fully combed yarn is made by removing the short cotton fibers and aligning the long fibers by combing processing, and it makes the product pilling-free, giving it luster and a soft, smooth touch.
For our bath towels, face towels, and flannels, we have used luxuriantly smooth extra-long staple Egyptian cotton.
We have attached a thin string to the inside of the yukatas out of consideration not to have the front open too wide while sleeping.
We have added bathrobes to relax in after having a bath.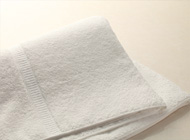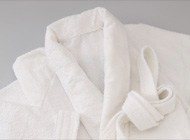 For the further comfort of our guests, we employ lots more clever touches here and there, but we'll leave them for you to find when you come and stay with us.
We sincerely look forward to seeing you.